Congratulation - Nilargha Mitra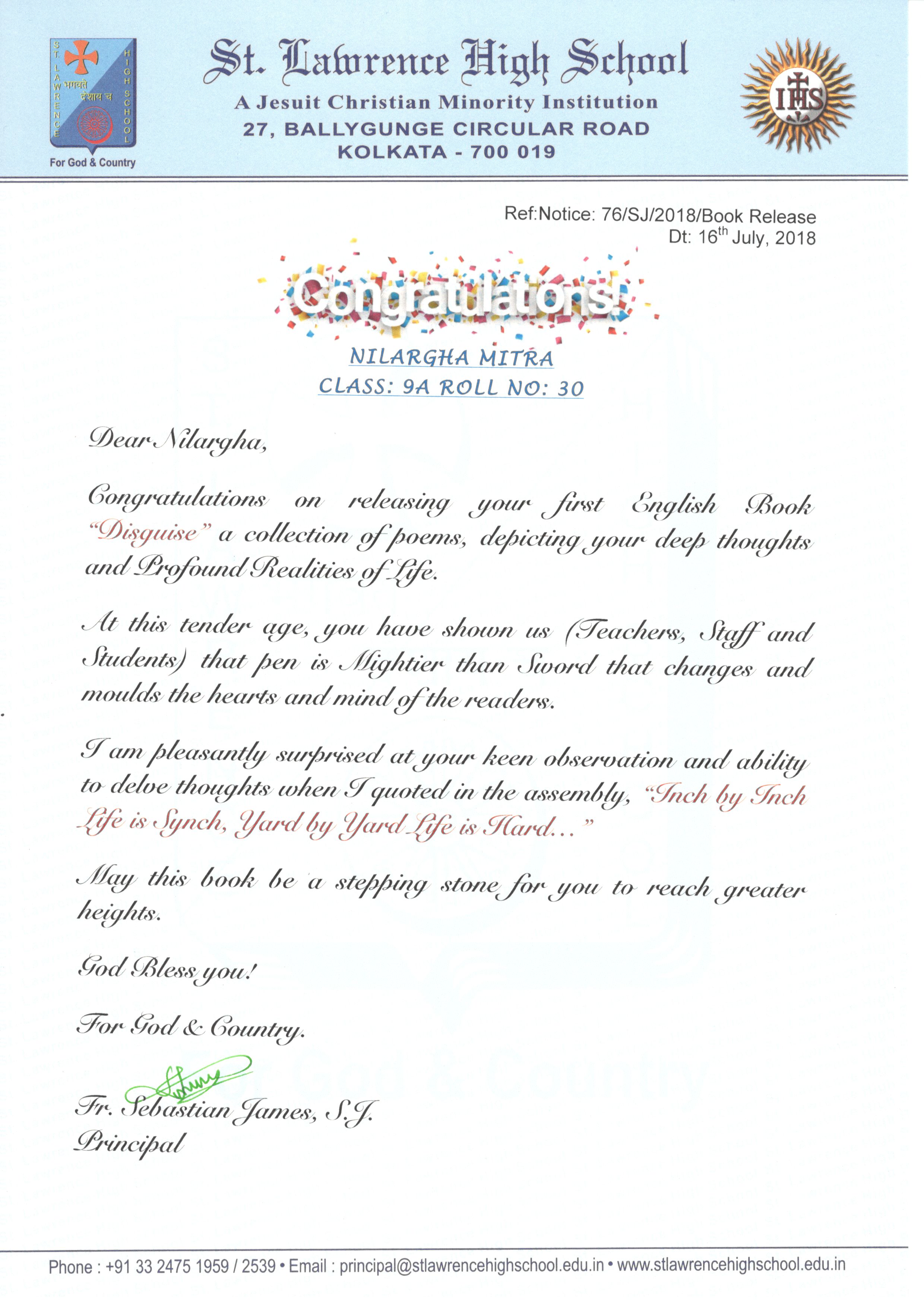 Honesty Is The Best Policy - An Honest Man's The Noblest Work Of God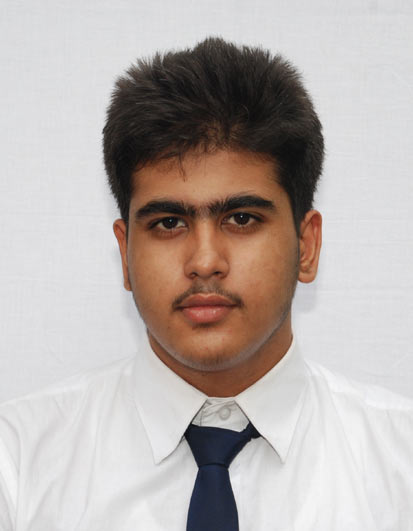 Master Mushfique Hussain Siddiqui of Class 12B, Roll No.244 found one purse containing more than `.5000/- in his class and immediately submitted the same to the Higher Secondary Co-ordinator on 15/07/2016 in the morning around 8:45 a.m. The purse belonged to Mr. Yash Argarwal of St. Xavier's College evening section. We congratulate Master Mushfique Hussain Siddiqui for his honesty, which has made the school, teaching and student fraternity very proud.
---
Primary School
Achievements in 2015
Singing competition :
On 23rd April we had Inter House Singing Competition. It was a good platform to showcase the singing talent of our little stars.
The winners are
Manish Chakraborty 1C Loyola House
Abhigyan Chatterjee 2A Aloysius House
Suryansh Bagri 3B Xavier House
Rupam Dutta 4C Aloysius House
English Recitation Competition :
The winners are
Layksya Jain 1B Loyola House
Rehan Rakha 2B Loyola House
Story Telling Competition
The master story tellers for this year are:
Manjil Bhattacharya 1B Loyola House
Rehan Rakha 2B Loyola House
Aysush Agarwal 3B Xavier House
Aayushman Saha 4C Aloysius House
OUTSTANDING PERFORMERS
NATIONAL LEVEL
Soudipto Nath of class 3C, secured first place in a Junior Age group Art Competition organized on an all India basis by Hindustan Unilever Limited.
Samantak Kumar Das a student of class 3B, participated in the All Bengal Swimming Competition organised by Calcutta Sports Association. He bagged Gold Medal in the Butterfly 100 metres and Silver in Free Style 100 metres. Samantak also bagged Triple Crown winning the boys' nursery, cadet and sub junior titles in the Indian Oil Table tennis Championship consecutively for 3 years.
Senior School
Students of Class 10 to 12 participated in 'EXUBERANCE' the school fest of St. Xavier's Collegiate School.
Aritra Guin bagged the 1st Prize for T-shirt painting.
Aritra Guin and Leslie Kujur bagged the 1st Prize for Spray Painting.
Souvik Biswas and Ranadeep Das secured the 1st Prize for Bengali Elocution.
Souvik Biswas and Dattatreya Mitter were awarded the 2nd Prize for Bengali Creative Writing.
Arya Mukherjee, Baidik Chakraborty, Rickraj Nath and Souhittya Sinha received 3rd Prize for Western Music.
Ananya Krishna Deb, Soham Mazumder, Jyotirmoy Chakraborty, Rickraj Nath, Dibyadeep Choudhury, Diptesh Chandra, Souhittya Sinha and Baidik Chakraborty won 3rd Prize for Eastern Music.
Students' Achievement
Class X and XII Performance
Lawrencians this year did very well in Madhyamik examination. Mohamed Zaid secured the highest mark, obtaining 93.71 %. We have 140 students in First Divison, 90% and above 19 students and 80% above 52 students.
In Uccha Madhyamik, all the 355 students passed the exam successfully. Asish Gandhi and Suvrojit Ghosh secured 87% and Rohit Agarwal secured 86% as school toppers. 90% and above 9 students, 80% above 94 students, 70 above 114 students and 307 students secured 1st Division.
Devansh Badaria 6B secured 3rd Joint Position in the 17th All India Full Contact Karate Championship on the 29th of March 2015.
On 25th & 26th April St. Lawrence went to St. Xavier's School, Ranchi to participate in the 4th Inter – Jesuit School Basketball Tournament where we were the Runners-Up. St. Lawrence emerged as the Champions in the 14th BRC Students Rowing Championship 2015, held between 10th and 17th May 2015. It was organised by The Bengal Rowing Club. In June St. Lawrence was crowned Champions in the 43rd K.C. Mahindra All India Invitational School's Regatta 2015 organised by the 'Lake Club'.
Students from the H.S. section were selected to participate in the All India Quiz Competition on 8th August 2015, organised by Metals and Mettallurgy Institute (Kolkata Chapter) which was held in the Metallurgy Dept. of Jadavpur University.
St. Lawrence was Runners-up in the Star Sports Young Heroes Inter-School Football Tournament organised by High Life Management on the 25th & 26th August 2015. Sayak Bayen was declared the highest scorer and Md.Shah Minhajuddin was declared the best goalkeeper.
St. Lawrence High School was part of the prestigious 62nd Inter-Jesuit Elocution and Essay Competition which took place in St. Xavier's, Bokaro, on 29th August. Sagnik Talukdar, Rohit Singhi and Soumyadeep Mukherjee represented our school in the Senior and Junior division of the competition respectively. St. Lawrence secured 2nd position in the essay competition. The participants were Sagnik Talukdar of XA and Tishyo Chakroborthy of Class XC.
The Lawrencians were once again declared victorious in the 4th Inter Jesuit School Football Tournament held on the 8th and 9th of August 2015 at St. Xavier's School, Durgapur. Sumay Shome was declared the highest scorer and Joe Shani the best Goalkeeper of the tournament.
Aritra Bhattacharya of class XC participated in the District Swimming Competition (school level) where he ranked 1st in 100m Back Stroke and 2nd in 50m Back Stroke.
Dikshak Bose won the 1st Prize and Gold medal in the 15th East India Open Shoto Cup in Karate.
Ayush Pandey won the Best Batsman award in the Ganga Motor Tournament and was selected to play in the under 16 Bengal Squad. He played for Bengal against Tripura and Tamil Nadu. He was the second highest scorer in the school CAB Tournament held in Kolkata, for the year 2015.Md. Tanqir won the Gold Medal in the Reliance Quiz Competition, 2015.
Mohak Manot was awarded Gold for the Inter-school Cricket Tournament organised by SLOBA.
Rajbir Singh Sidhu won Gold and was awarded the 'Man of the Match' title in a Hockey Tournament organised by Punjab Sports Club. Samudraneel Sarkar ranked 43 in the All Bengal Spell Bee Contest.Souranshu Roychaudhuri secured 7th position in All Bengal Open Rapid Chess Tournament 2015. Deep Panda was awarded 3rd position in All Bengal Gosuku Karate Tournament. Ranadeep Das,Saukarya Samad & Souradeep Dasgupta participated in Quizzat conducted on 24th September 2015 at Mahanayak Uttam Marcha. They made the school proud by coming 2nd in the finals. On 26th September 2015 Jyotirmoy Chakraborty of Class XI showed his ''Tabla'' playing skills (solo) at Yuva Bharti Sangha Sangeet Yojna in Bangalore.